Find out with Cadiz4Rentals every possibility of vacation rental we have here for you. We currently manage more than 90 apartment, tastefully decorated, where we offer not only a place to stay/bed to sleep, but the chance of living an unforgetable experience.
Comfortables apartments for holidays in famliy, turistic houses for sharing with friends, charming vacation lofts for a romantic weekend trip or a quiet study for short working periods. Within all our accomodations you will be able to feel yourself part of our community, the freedom and the warmth of a home in order to feel like one of us.
360º
Live an immersive experience from Cadiz4Rentals!
From now on, with our new 360 ° Virtual Tours, you will be able to know our accommodations and explore in a totally interactive way its interior, its comforts, and the details that are waiting for you even before crossing the door.
Be part of this innovative way of visiting homes and enjoy everything that Cádiz has to offer, before you arrive!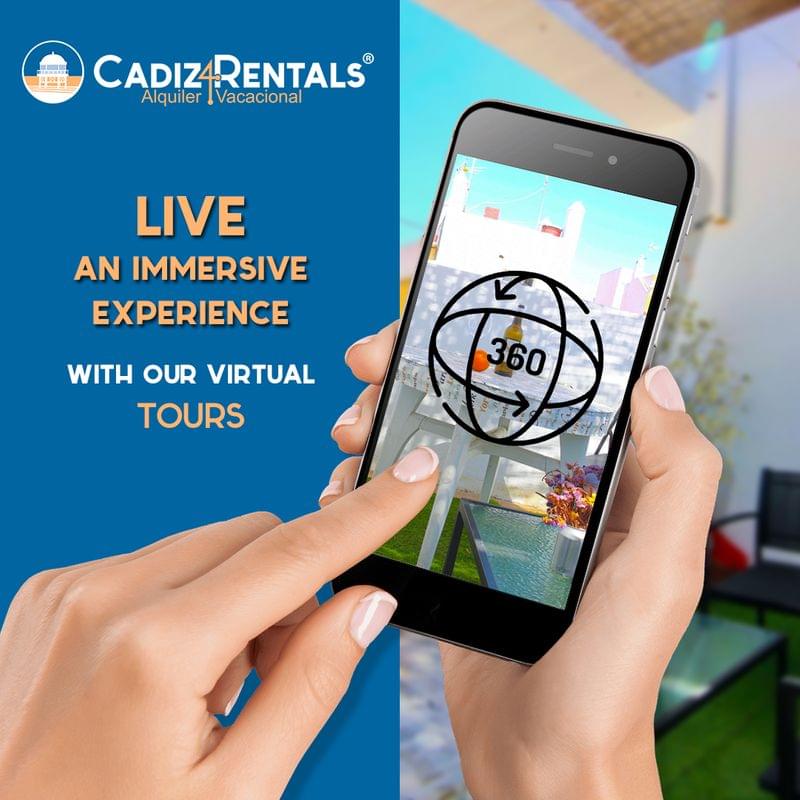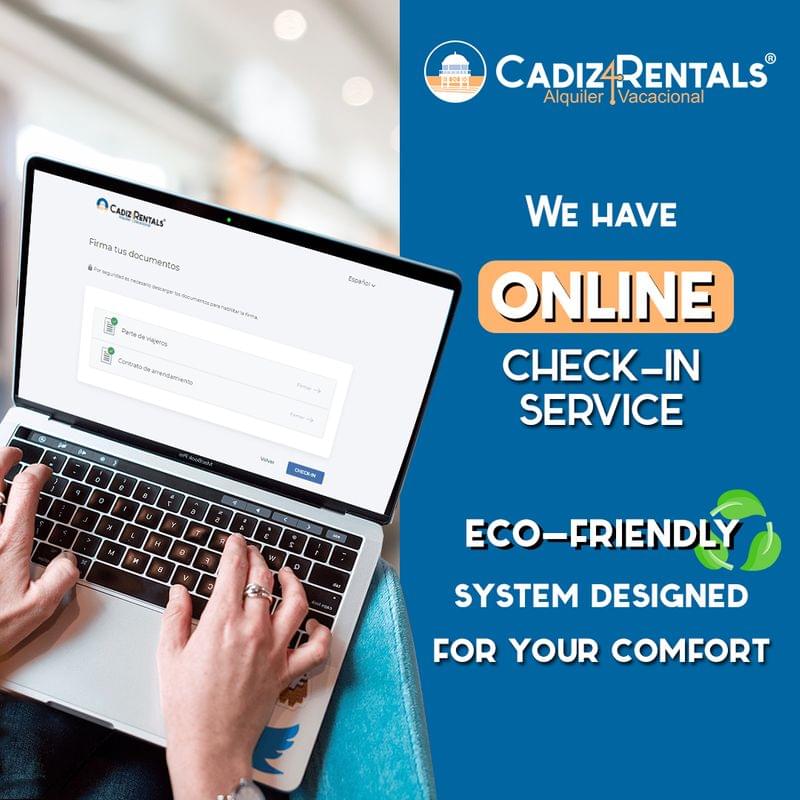 CHECK IN ONLINE
We present our CHECK-IN ONLINE service, a practical and comfortable solution to make your trips eco-friendly.
It is a system with which you can check in through your tablet or mobile, saving a lot of time on the day of your arrival!
It also consists of a secure way to sign the passenger part and the rental contract.
It is part of our eco-friendly system, in which we cooperate with the environment, as we do not use paper.
ELECTRONIC LOCKS
If you book one of our apartments with and ELECTRONIC LOCK, you could go directly to the apartment, with total comfort, without having to worry about the time.
When making the reservation, you will receive the electronic key for your mobile phone.
It is an innovative, comfortable and safe way to travel.
Fall in love with Cádiz with us and experience it your way!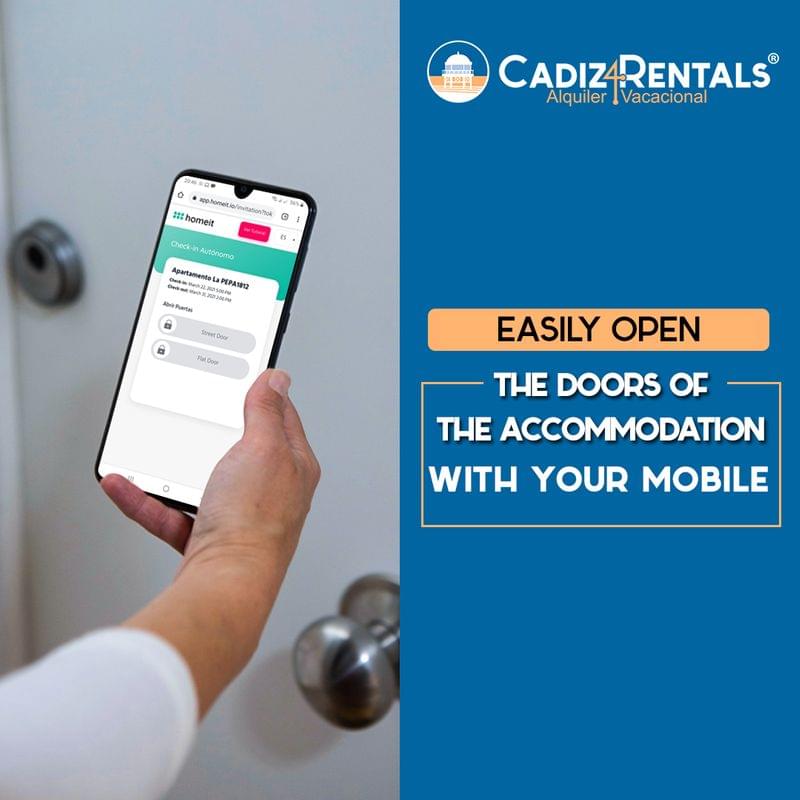 Cadiz4Rentals S.L has been a beneficiary of the European Regional Development Fund whose objective is to achieve a more competitive business fabric and thanks to which it has participated in the presentation "YOUR HOUSE IN CÁDIZ" (Stockholm) to promote its internationalization. This action was between October 2 and 16, 2019. For this, it has been supported by the 'Programa Internacional de Promoción de la Cámara de Comercio de Cádiz'.
A way to make Europe.

FAQ
QUESTIONS BEFORE BOOKING
How do I make a reservation?
To book a flat with Cadiz4Rentals, you must follow 2 simple steps on our website:
STEP 1: On the main page of the website there is a search engine. Enter the date of arrival, the date of departure and the number of guests, as well as their ages if they are children. You will see all the flats available for the requested days. Choose the desired flat and select "Book". You can filter your search according to the number of bedrooms or bathrooms, the name of the accommodation if you know it, various categories or features you want the flat to have. You can sort your search to make it easier for you to choose which accommodation you like best. You can see all the availability on a map to help you find your way around by clicking on the "Map" tab in the search.
STEP 2: Fill in the booking form.
NOTE: We do not accept American Express or Maestro cards.
---
How and when can I pay for the booking?
Just before booking you will be able to see the Cancellation Policy and payment dates. We accept payment by credit card, PayPal or bank transfer if there are more than 48 hours before your arrival (we do not accept cash payments). If you enter your card details, the system will automatically and securely charge you the amount of your booking the day before the free cancellation period expires. If you want to make any other payment (pet, late departure,...) access the Instant TPV of our website and fill in the questionnaire.
---
What happens if I cancel once the booking is paid?
Once the booking has been paid for and the free cancellation period has ended, we cannot refund the amount paid unless there is a justified case of force majeure, in which case we can issue you with a voucher for the full amount paid. However, if you cancel within the free cancellation period, we will refund 100% of the amount paid, with no cancellation fees!
---
Do children pay?
With Cadiz4Rentals children under 2 years old are free of charge. Some flats have a baby seat and folding cot free of charge. If you are coming with babies, please let us know in advance, so that we can arrange for them.
---
Are cleaning costs included?
The total amount of the booking includes the final cleaning of the flat and the service charge. This means that when you arrive, you will find the flat clean (including bed linen and towels) and disinfected. And when you leave the flat, we will proceed to clean and disinfect it again for the next guest. In addition, for bookings of more than 7 nights, Cadiz4Rentals will provide extra linen on request free of charge or you can request a cleaning service for an additional cost.
---
What is the tourist tax?
There is no tourist tax in our city.
---
Is there a minimum age for booking?
The minimum age for booking is 25 years old.
---
Is there a minimum stay to book a flat?
The minimum stay in our flats may vary depending on the season of the year. When you enter the dates of your booking in the search engine we will let you know if the minimum stay for those dates does not match the booking you want to make.
---
Can I book by phone?
If you wish, you can contact us by email at reservas@cadiz4rentals.com or call us on +34 956 538 019 or +34 640 079 700 and we will make the booking ourselves. You can also contact us by Whatsapp on +34 640 079 700.
---
Can I visit the flat before booking it?
Many of our accommodations have a tour 360º that gives you a complete 3-dimensional view of each accommodation. You can see it on our website in the advertisement of each accommodation. If the accommodation you are interested in does not yet have this tour, there is the option of visiting it subject to availability.
---
Is it necessary to provide a damage deposit?
No. We rely on the good practices of our guests. However, by signing the tourist rental contract, they agree to be careful and clean with the flat and agree to abide by its rules.
---
Can I stay with my pet?
Yes, some of our accommodations accept pets. There is a pet supplement that guarantees the good condition of the property after the stay of a pet and the allergenic guarantee of the same for future guests. This supplement is 25€/pet and stay and must be paid before entering the property. A maximum of two pets up to 12kg each are allowed per accommodation. Breeds considered PPP (potentially dangerous) are not allowed. The non-declaration of pets does not exempt from the payment of the supplement even after the end of the stay. The payment of the supplement does not cover possible damages found in the property or in the common areas caused by pets (urination, defecation, damages,...). The municipal ordinance on the keeping of animals obliges the collection of defecations made by our pets in the public thoroughfare as well as the cleaning of their urine with soapy water.
---
Can I entrust you with my data?
Of course, we comply with all current legislation. You can consult it HERE.
QUESTIONS BEFORE CHECK-IN
Can I modify or cancel my booking?
It will depend on the Cancellation Policy contracted at the time of booking. To modify or cancel your booking, please contact us.
---
Can I request a cot or high chair for my baby?
Some flats have a cot and a high chair for babies. If this is not the case for the one you wish to book, please contact us.
---
Do I need to identify all guests travelling with me?
Yes, guests must show a valid identity document and sign a tourist rental contract at check-in (in accordance with Decree 28/2016 of the Junta de Andalucía on Housing for Tourist Purposes). This procedure can be done in full in advance with our CHECK IN ONLINE. You will receive all this information in the confirmation email.
---
When is the key collection timetable?
You will receive this information in the confirmation email. Key collection is usually from 16h to 20h but, if we can deliver them earlier, we will do it at no extra cost so that you can enjoy your flat as soon as possible. If you plan to arrive outside these hours, please contact us. Many of our flats have a self-contained entrance and electronic lock, via an app or web link, so you can go directly to the flat without going through the office if you check in online.
---
What do I do if I am going to arrive late?
Contact Cadiz4Rentals immediately and we will tell you how to proceed.
---
Where do I pick up the keys to my flat?
You will receive this information in the confirmation email. The keys are normally collected from our office in Cadiz, which is excellently located in the historic centre and only 5 minutes walk from the train and bus station. Pay attention to the confirmation email to find out if your flat requires key collection, as if it has an electronic lock, you can go directly to the flat, as long as you have completed the online check-in.
---
Will someone accompany me to the flat?
Normally not. The location of the accommodation will be indicated in detail in the confirmation email (underlined in yellow). However, if you need help getting there, please contact us.
---
Is there room service in the flats?
The final cleaning supplement included in the total price of the booking is used to pay for the cleaning service that we carry out at the end of your stay, before the next guests arrive. However, if you wish to have it cleaned during your stay, please contact us and we will inform you about availability and price.
---
Do you offer an airport transfer service?
Yes, we offer transfer services with a local company, check HERE for price and availability.
---
What is my booking reference number?
You will find it in your booking confirmation email.
---
Can I smoke in the accommodation?
No. Smoking is strictly forbidden inside our accommodation, subject to a financial penalty.
---
Where can I park my car during my stay?
Contact us so that we can advise you on the best parking option for you. You can also book a parking space HERE.
---
When do I have to leave the flat? Where do I leave the keys?
The day you leave the flat you only have to leave the keys on the table in the living room and close the door when you leave. This way, you can leave the flat whenever you want, but no later than 12 noon. If you are interested in leaving later, please contact us and we will inform you about availability and price.
---
How do you guarantee the quality of your services?
Cadiz4Rentals is born from the professional experience matured by its partners since 2012, Daniel and Lorena. We will be with you during your visit to Cadiz: our team will be at your disposal throughout your stay to assist you, trying to adapt to your needs and attending to your requests. We are committed, through our corporate compliance document, to the procedures and good practices, identifying and classifying the operational and legal risks we face in our day-to-day work, establishing internal mechanisms for prevention, management, control and reaction. However, the best guarantee and our greatest motivation are the approximately 15,000 guests a year from more than 200 places of origin that we host in Cadiz, and whose expectations we have met. 
QUESTIONS DURING THE STAY
Who is responsible in case of damage?
The tenant is responsible for any damage caused to any belongings in the rented accommodation, damage to the property or damage to anything else connected with the property, whether caused by themselves or their companions or visitors during their stay. Defects that may be found in the property upon arrival must be reported within 24 hours of arrival and entry to the property.
---
Do I have to take sheets and towels with me?
No, all the linen necessary for your stay will be in the flat on the day of your arrival. If you are staying for 7 nights or more, you can request extra linen free of charge if you wish.
---
Do I have to buy basic items on arrival?
We offer, completely free of charge, basic hygiene and cleaning products to start your stay (gel/shampoo, dishwasher, detergent, cloth, rubbish bag,...). If you need more, we can advise you on the nearest supermarket.
---
Can I drink tap water?
Yes, 99.5% of tap water in Spain is considered fit for consumption and meets all the quality standards established by the European Union.
---
If I have an accident during my stay, who can I turn to?
Of course, you can always count on us, we will be happy to help you, but we recommend that you contact 112 in case of any serious emergency.
---
Do I have 24h assistance/maintenance during my stay?
Yes, every day of the year and during opening hours you can count on us to solve any incident related to the flat. Outside these hours only EMERGENCIES will be attended. You will receive the emergency telephone number in the confirmation email.
---
How can I contact cadiz4rentals?
If you wish, you can contact us by email at reservas@cadiz4rentals.com or call us on +34 956 538 019 or +34 640 079 700 and we will make the booking ourselves. You can also contact us by Whatsapp on +34 640 079 700.
QUESTIONS AFTER THE STAY
Will someone from the agency come to the flat when I check-out?
No, this is not necessary. Just follow the check-out instructions in the confirmation email.
---
What do I do if I forget something in the flat?
Contact reception (+34 956 53 80 19 or +34 640 079 700) and we will tell you the best way to get it back.
---
How can I request the invoice and proof of stay for Andalucía segura?
Request it at administracion@cadiz4rentals.com indicating your booking reference number. If you prefer to do it by phone, call +34 956 538 019 and dial extension 102 to contact the administration department.